Dates: 8, 15, 22, 29 May, 5, 12, June 2020
We offer a 6 session course streamed live and online.
Practice where you are!
Sadhita and Sudaka guide you through a six session course
covering the basic set up and practice of meditation.
90 minutes per session
£150 (Please contact us if money is an issue)
Why do this online course?
learn to meditate with very experienced teachers/practitioners. Sadhita and Sudaka have nbeen medtating for more than 25 years
acquire basic meditation techniques and skills of how to work in meditation
develop yourself
understand yourself better
learn how to work with stress and difficult mental states
learn how to live more from your centre and deeper authenticty
learn meditation from the Buddhist tradition

this course prepares your for our retreats and yoga training 

at 200 and 500 hour level providing the meditation basis for our yoga teaching

receive a comprehensive downloadable Manual (26 pages)
Online Meditation course content
Introductory session - What is medtation?
Ana Pana Sati - Mindfulness of Breathing
Metta Bhavana -kindness and compassion meditation
Focus/breath, balancing effort
The Hindrances & How to work with them
Higher states of consciousness - Dhyana
A downable PDF Manual provided with the course.
To book - fill in our Application form and we will get straight back to you
---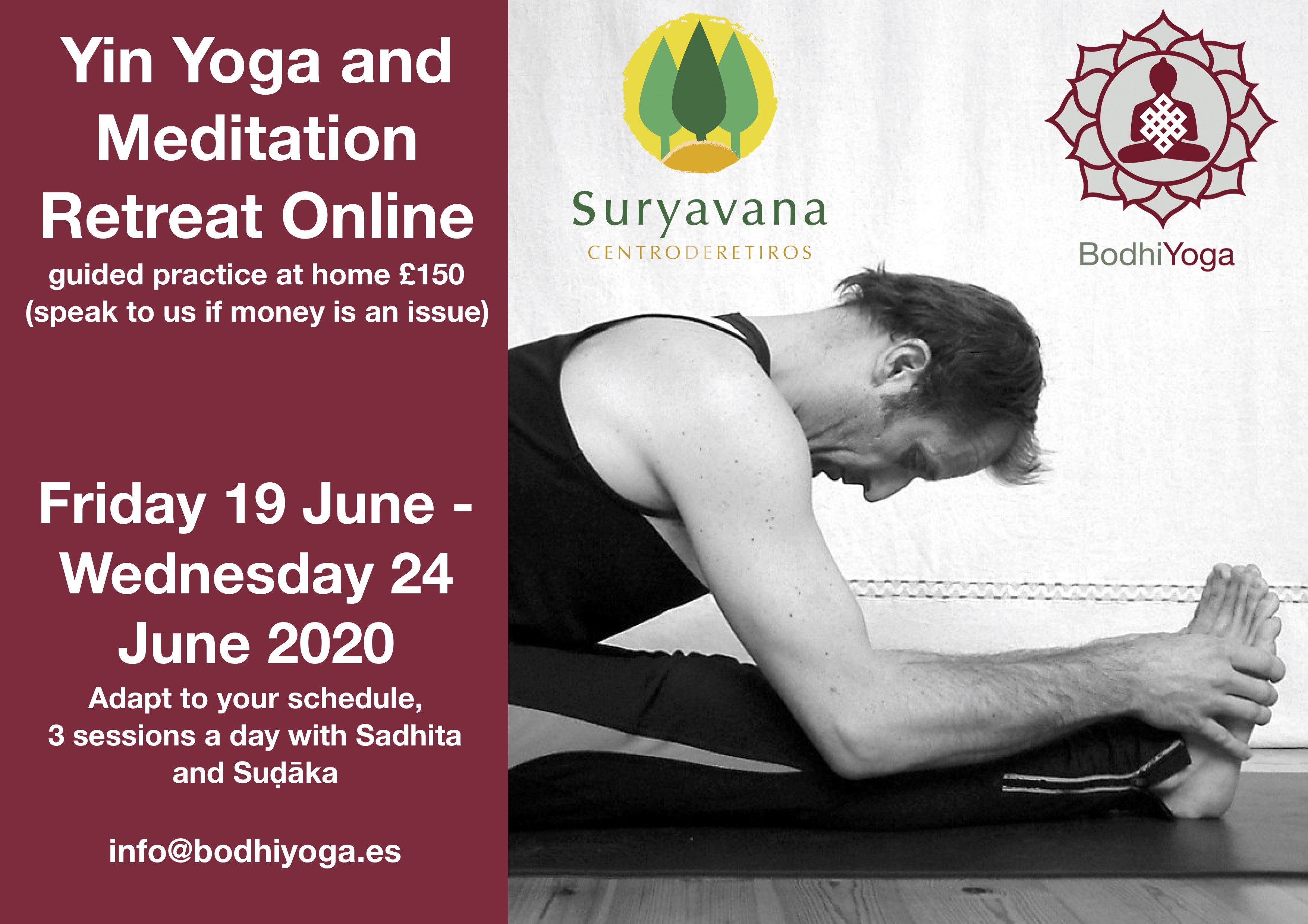 Yin Yoga and Meditation Retreat Online
Dates: Friday 19 June- Wednesday 24 June 2020
Cost: £150 (Please note that we don't want money to be a problem, so talk to us if you need to)
Schedule:
10.00-11.30 Meditation workshop 
16.00-17.30 Yin yoga
 
20:00-21:00 Poetry, reflection Meditation
 
This June, we are running a five day meditation and yoga retreat based on Yin Yoga Online. Yin yoga is a wonderfully grounding and calming practice complements mediation. Note: there will be no dynamic yoga taught on the retreat. 
The schedule will be flexible so that you can effectively do a retreat at home, or if you have other responsibilities, not allowing a full retreat experience, then dip into the sessions that you can manage each day. 
 
The retreat schedule will revolve around two meditation and yoga sessions a day and an evening session based on poetry and reflection to finish the day.
 
The retreat is a great way to connect with other people and share experience.
 
Classes will be alternated between Sudaka and Sadhita.
 
You'll need a computer, tablet or ipad (or phone minimum) and reasonable internet connection. We are currently debating which platform to use given the current issues with Zoom.
 
Keep in mind we will limit the number on both events to 12 to allow for good participation.
 
To book - fill in our Application form and we will get straight back to you